I  saw these featured on The Coquette (What can I say? Girls got style!)These are Grape Corte Booties by Osborn . A gem of a boot – sweet aqua and purple hues hand woven into a thick cotton fabric.   These fair trade puppies are handmade by Guatemalan artisans and cobblers, use recycled tires for soles.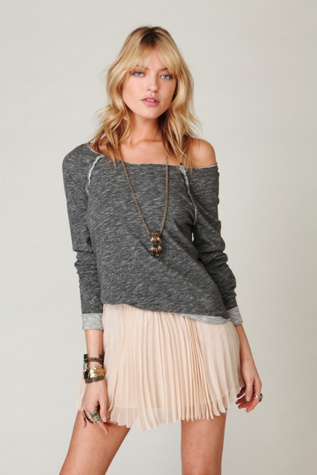 I am absolutely loving this Cocoon Boat Neck pullover from Free People. This Marled boat-neck pullover with contrast sleeves, hem, and exposed seams is on my wish list. I seriously must have it!. It looks super comfortable, and I love how they made it dressy with the pink skirt. It just look so effortless, but flawless all at the same time.
I also saw these amazing Leather Shorts featured on The Coquette and I have been lusting after them eversense. These are from  LA-based designer, Heidi Merrick.