It is probably well-known by now that when it comes to home decor,I have some pretty eclectic tastes. Here are some home decor ideas that I just adore! Hope you enjoy!
Bedrooms
What I love about this bedroom is the use of patterns as well as that pretty amazing mirror on the wall. I'm also smitten with the pillow of the guy with the cute mustache lol.
What is better than being outside? feeling like your outside when your inside hahaha. The faux grass is pretty amazing!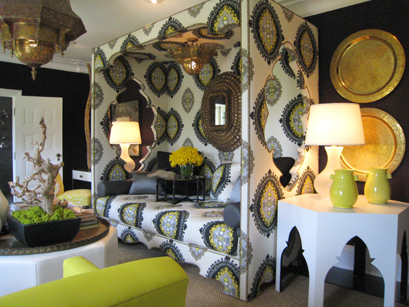 I'm loving everything about this bedroom! The colors, the patterns. It is so exotic in my opinion. I would love to walk into my room & feel like I am in someplace foreign.
Light Fixtures 
Here are some lanterns that I would love to have in my house! These are pretty awesome.
Kitchen/Tables
I am in love with these tables. They are so  rustic! I love the old cozy cottage vibe I get from it.
Colors/Patterns
Patterns Patterns and more Patterns. I'm not afraid of color, I'm just afraid I wont make it work. But these photos give me ample inspiration to make me feel like I can get the job done.
Photos from Designintuit  as well as Apartment Therapy
What do you think?