If you asked me who my celebrity fashion icon was, I would have to say Adele. Hands Down! From what she wears to her make-up. But it's not just her clothes and her make-up that make her beautiful, it's her demeanor. From what I see she is the sweetest most down to earth women I have ever seen a celebrity be. A lot of people comment on her weight, trying to take away her spark with negative and ignorant comments. Beauty has nothing to do with your weight & she is a prime example of that. It's about who you are as a person! She has a beauty that matches her incredible voice & negative talk about her weight won't take that away.
She has a 50′s/60′s glam look about her that I absolutely adore, since I am obsessed with that time period. She teaches girls that you don't have to be skinny to be seen as beautiful, which is such a positive message to young girls and women who struggle with body image. Her music also speaks of great self-confidence and strength. She tends to channel old hollywood. for the most part. I can't help but be reminded of Audrey Hepburn from her clothing, but from this photo her eyes scream Fashion Icon Twiggy.
From her make-up to her clothing she inspires me on a daily basis & she has yet to make a fashion no no..at least in my book.
She rocked this 50′s inspired look at the 2011 VMA's and she looks absolutely stunning. Not only is she my fashion icon, she is my idol!
Not only is she toping the charts, she is quickly becoming a fashion icon for all. Despite the fact that she has been quoted saying "I hate fashion." despite her lack of interest in fashion, it doesn't change the fact hat she looks amazing. Maybe that's the trick to being fashionable…Don't try & get it right?? I don't know, but it's working for her. She dresses classically and modestly. She is a beautiful women and a positive role model for young girls and women everywhere.
————————————————————————————————-
Now I'm no fashionista. I don't know all the big designers and what they are all about, and I don't claim to. I just know what looks good and what works for my body. But thanks to bloggers like Beautifully-Invisible I am learning more about designers everyday. Before her I had no idea who Tom Ford was! (I thought he was the guy from the Indiana Jones movie haha) He has quickly become one of my two favorite designers that I actually know (the other being Rachel Zoe)
This post is all about Fall fashion and some items that I am coveting at the moment. I have become addicted to Nordstrom. It doesn't hurt that they feature some items from Tom Ford as well as Rachel Zoe! Now they have some really expensive things that would just bury me in debt, but they do have some other items that I would not mind going a little over budget for, or saving up to buy as a treat for myself, because I know that I am getting quality items that would last (and it's just super cute)
Here are some of the items that I am craving!
Now, we all know Capes are a big trend this Fall & this Wrap Collar Cape by Rachel Zoe has my heart skipping beats. This is one that I personally would have to save up for (although my mom may just help out, because she loves it as well & she would most def. want to borrow it hehe) It's made of wool and has a leather trim. I am absolutely wowed by its style. It is a beautiful, timeless statement piece that you can get it at Nordstrom for $695. Again I am going to do some serious saving and begging hehe.
Cat Eye Sunglasses are a trend that I pray never goes away! These Tom Ford "Nico" Retro inspired Frame Sunglasses at Nordstrom are way more than I am willing to spend on a pair of sunglasses (because knowing me, I would lose them! & end up crying myself to sleep) but nevertheless they are amazing and beautiful.
This Knit Shift Dress by Eliza J Ponte is a dress that I would kill for! (Literally…well not Literally,but you know what I mean) Not only is Cobalt one of my favorite colors as well as a major trend color this Fall, the clean shape and lines of the dress remind me of Audrey Hepburn. Which is the main reason why I am in love with this dress. For $118 at Nordstrom I am dying to snatch this baby up as soon as I can!
Okay, I was in awe of these menswear inspired shoes as soon as I saw them. Most of the people I showed the shoes to thought they were "ugly" but I had to disagree. Then when I saw the same shoes paired with the outfit in the above image I was even more in awe of them. This platform pump with the  tassel is one of my want's and a must have. And at $98 at Nordstrom, it's not breaking my bank.
I don't know if you have smelled Donna Karen's Cashmere Mist perfume at Nordstrom, but you must! It smells wonderful and isn't heavy at all. To me it smells very casual and is something I could wear everyday, instead of those ones that smell heavy and are more for a special occasions. This perfume indeed does seduce the senses like they say.
Tell me…what do you all think??
xoxo
Stephanie
———————————————————————————————–
If you have not heard of  The Coquette Boutique, then you are in for a real treat! The creator of blogs The Coquette, Dear Coke Talk, and Coke Talk now has a Boutique with amazing items to choose from. This has been one busy girl, and she shows no signs of slowing down. I had a look though her Boutique and I can tell you now.. I plan on maxing out my credit card, because these Item's are to die for. Here are a few items that I am just itching to get my hands on. If you see anything that catches your eye you can click here. It will link you to her Boutique and you can do some shopping.
I almost cried when I saw this lovely creation. I want this wrapped around my body ASAP! This is a Karen Zambos Vintage Couture creation. It is cut for a comfortable and loose fit. As such, they tend to run on the larger end of the sizing spectrum but can be easily tailored for those who prefer a tighter fit. It is Made in the USA out of 100% silk recycled vintage fabric.
Of course she has these wonderful creations, made by Osborn. These are hand-woven cotton and has a denim upper. It also has a cushioned insoles with artisan signed leather soles. Osborn's run true-to-size. The ones featured here are not available anywhere else and won't be reproduced, so once they're gone, they're gone.
This is just perfect for Spring time. It has a very romantic feel to it that I adore. This is another creation by Karen Zambos. Made in the USA out of 100% polyester recycled vintage fabric.
As you may know, Jumpers are a major trend for this Spring. So when I saw this, I immediately put it on my wish list. This zip up jumper in black seersucker silk features a hidden zipper at the bib, faux flap pocket on left bust, roomy pockets at the hip, and criss-cross back straps. It has a drawstring waist and gathered elastic banding at the hem for versatility.
Remember you can only get these delicious items at The Coquette Boutique. So be sure to head on over to her site and check it out.
————————————————————————————————-
I  saw these featured on The Coquette (What can I say? Girls got style!)These are Grape Corte Booties by Osborn . A gem of a boot – sweet aqua and purple hues hand woven into a thick cotton fabric.   These fair trade puppies are handmade by Guatemalan artisans and cobblers, use recycled tires for soles.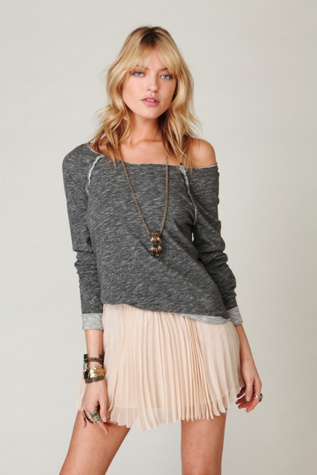 I am absolutely loving this Cocoon Boat Neck pullover from Free People. This Marled boat-neck pullover with contrast sleeves, hem, and exposed seams is on my wish list. I seriously must have it!. It looks super comfortable, and I love how they made it dressy with the pink skirt. It just look so effortless, but flawless all at the same time.
I also saw these amazing Leather Shorts featured on The Coquette and I have been lusting after them eversense. These are from  LA-based designer, Heidi Merrick.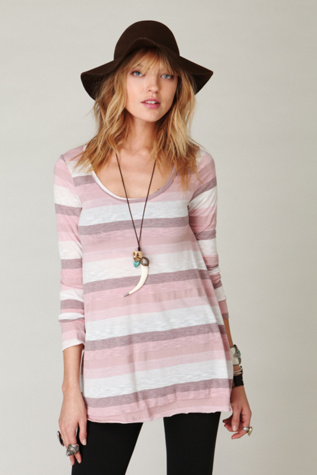 I'm also really feeling this  Long sleeve Stripe Tunic by Free People. They have it in three amazing colors, but my personal favorite it the one in Wintergreen.
———————————————————————————————-
Talk about a work of Art!
———————————————————————————-
———
————————————————————————————
Deborah Marquit Fluorescent Lingerie
This shit has been infamous since Carrie Bradshaw rocked it under black lights back in season four.  I'm thinking of snagging a royale blue bra to layer under all the sheer whites and blacks that are coming out now.
Actually, thanks to the front and back panels, this Alexander Wang silk-chiffon sweatshirt would look amazing over one of these, and it's 60% off.
whoretalk.tumblr.com
---
Oh my Gosh. These gloves by Nina Ricci are girly and cute in all of the right ways!
---
This is a tote bag from Alexander Wang's Spring 2011 collection. All I can say is beautiful!!